There is always a risk of overplaying the importance of symbolic meetings between world leaders, but the 70-second handshake between President Xi Jinping of the People's Republic of China and President Ma Ying-jeou of the Republic of China (commonly known as Taiwan) is truly a momentous occasion. The first meeting between leaders of the "two Chinas" since the civil war of the 1940s that led to Taiwan's de facto separation from the mainland.
The meeting, which took place in Singapore, has not been formally explained by either side and it will not lead to the kind of dramatic shift in relations that many would hope for – either towards 'reunification' or for a greater recognition by China of Taiwan's right to autonomy, let alone formal independence. Nor does it seem that any significant or meaningful agreements have been reached over some of the more practical matters that help to keep the relationship peaceful, such as trade and tourism.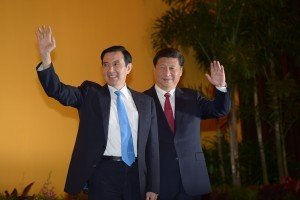 So what was the point? As ever, domestic political considerations are central to understanding the motivations of both parties. Ma Ying-jeou has built his reputation in Taiwan as a president that could help to improve the state of the relationship with the mainland. While this is not a popular tactic with all Taiwanese, the majority of the island's population favour a cordial relationship at minimum with the PRC. Certainly, finding a way to continue Taiwan's de facto independence whilst staving off any threat of invasion from its giant neighbour ought to be considered a success for any leader of the island. But there is a presidential election looming in Taiwan and, having served two terms, Ma is not eligible to stand again. The KMT's candidate, Chu Li-luan (also known as Eric Chu), has recently been brought in to replace Hung Hsiu-chu who was trailing hopelessly in the polls and Ma's meeting with Xi is a reminder to the large portion of the electorate who value cordial relations with the mainland that the KMT is the only party that can really deliver this.
Xi's motivations may be somewhat similar. Any move towards a formal declaration of independence – unthinkable under the KMT but a marginally more realistic prospect under the opposition DPP – would leave him hamstrung in terms of policy options. China is committed to regaining sovereignty over Taiwan and such a move would leave Xi with little option but to take military action, something that he would clearly prefer not to do. So it is in the interests of the CCP that the KMT remains in power in Taiwan.
So it could be interpreted that this is an attempt by the CCP to influence the Taiwanese electorate. If it is, then it represents a considerable change in tactics from the last time it attempted to do this, when a series of missile tests were conducted in the Taiwan Straits in an attempt to convince the Taiwanese electorate not to vote for Lee Teng-hui, who it considered to be an advocate of Taiwanese independence. The result was almost catastrophic for China as the US came to Taiwan's assistance. A military conflict was narrowly avoided but China lost both face and international credibility. It also singularly failed in its objective as Lee was elected by a landslide. It remains to be seen if Xi's softer approach will be more effective in achieving Chinese goals.
http://www.chinafolio.com/wp-content/uploads/2015/11/Ma-and-Xi-300x2001.jpg
200
300
chinafolio
http://www.chinafolio.com/wp-content/uploads/2013/10/chinafoliologo.png
chinafolio
2015-11-07 13:16:34
2015-11-07 13:20:04
A 70-second handshake: China & Taiwan making up for lost time?